Nancy M. Howland (1940 - 2009)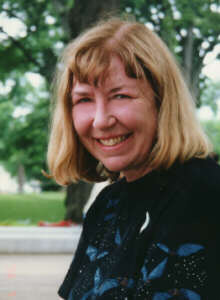 Strong interests in painting, ceramics and sculpture led to a BA degree in Art (minor in Psychology) from the California State University at Fresno. After graduation, she pursued a 32-year career in California and Wisconsin Human Services, the first nine years as a social worker, and subsequent years as a social planner for the State of Wisconsin. Nancy Howland specialized in adult protective services and guardianship, writing policy manuals, policy issue papers and technical assistance documents. During this time, she continued to express herself in art classes, exploring pottery and ceramic sculpture, and was involved in making jewelry with semi-precious stone beads.
Since 1999, her interest in art and jewelry was furthered by learning metal working techniques in art metal classes at the Madison Area Technical College. Her home studio was fully equipped for small projects such as bezel-set stones, lockets and the like, but Howland's primary focus continued to be on silver beads. An avid reader, she had collected over 80 books on jewelry and metalworking.
Articles:
"Mystery Silver", Art Jewelry, November 2007. This is an easy test to determine whether your unidentified silver is Argentium Sterling, traditional Sterling or fine silver. PDF download available from www.artjewelrymag.com.
"Fine Fusion", Art Jewelry, November 2006. Granule fusing with Argentium Sterling silver. PDF download available from www.artjewelrymag.com.
"Hollow Silver Bead", Lapidary Journal, October 2003. Same as the Short Course on this Web Site. PDF download available from www.jewelryartistmagazine.com.
Karin Eichhoff
1615 Cypress Trail
Midddleton, WI 53562

eichhoffk@yahoo.com


---
Web site by Lois Phillips.